Dirtbag Doctor: Rainier's Medicine Woman
by Charlotte Austin, Women's Adventure Magazine, Feb 2015
In 2002, Emily Johnston was a mountain guide, ski patroller, and 39 years old. And she started her first year of medical school.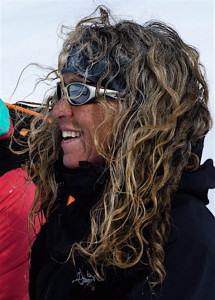 Dr. Emily Johnston
She hadn't always planned to be a doctor. Emily graduated from Middlebury with a BA in biology, but was "too busy playing rugby to focus on grades." The year after she graduated she worked as a river guide on the Snake, then quickly started working for Outward Bound. In 1987, she started ski patrolling in Idaho, and by 1989 she was guiding on Mount Rainier. She guesses that she was the fourth or fifth woman hired on the mountain, and soon she was guiding big mountains in Mexico and Alaska, too. But then something terrible happened on the ski slopes.
"I had a patient die. She was a 47-year-old aerobics instructor with heart trouble, and she shouldn't have died, but she did. It pissed me off, and that's when I decided that we need some good doctors in rural America."
The next year Emily enrolled at Central Washington University, where she took the necessary prerequisites: organic chemistry, physics, statistics. She studied for and took the MCATs, then applied to 15 schools. "I didn't tell anybody what I was doing," she says. "One or two of my closest friends knew, but none of my family or coworkers."
The first time she was offered an interview, Emily realized she needed to buy some clothes without holes in the knees. So she called her best friend, who said, "I've waited 35 years to take you shopping." They went to the mall and bought a Talbots suit, nice shoes, and a leather belt. She had the suit tailored, wore it to the interview, and was accepted at the University of Washington School of Medicine.
"My family was sitting around after Thanksgiving dinner that year, and I handed the letter to my dad," she says. "That was the first time they'd heard anything about it. He was so proud that his hands started to shake." She smiles at the memory. "That was fun."
Some people say that learning is harder when you're an adult, but Emily had a different experience, as did her mother, who started architecture school at age 40. "Graduate school is a lot easier when you're older," she says. "You have a lot of things figured out. You know what the professor wants. You've got your urges under control, so you don't have to party every Friday night. And if you're stressed about an exam, you know to just put your head down and study."
After she graduated from medical school (at age 44), Johnston headed south to complete a residency at the Oregon Health & Science University (OHSU) in Portland. During her residency, she did medical work in Nepal and the Republic of the Congo. She also designed and conducted a research project on Denali, where she measured the effects of carbon monoxide in tents where people were cooking. She finished her residency at age 47.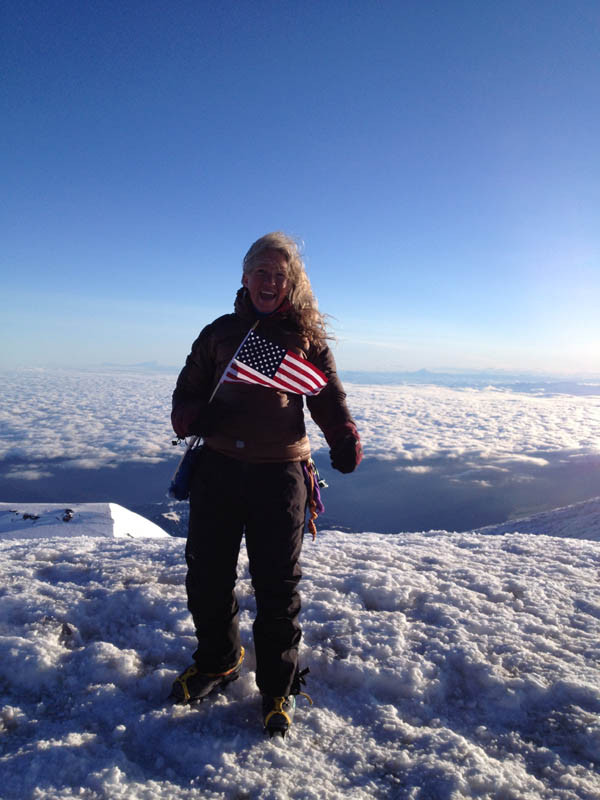 Dr. Emily Johnston
Are all of these experiences related? She thinks so. "My time in the wilderness absolutely makes me a better doctor," she says. "As a mountain guide, you're dealing with people in stressful situations on a regular basis, and you're the one they're look to — you have to be the rock. It's the same in the emergency room: Even if there are horrible things going on, you must be calm."
Even more than that, she believes, being a mountain guide is all about psychology, and it's the same in the hospital. "Whether I'm roped up with a client or treating a patient in an exam room, I constantly ask myself: Why is this person here? What does this person really need out of this experience? And how can I help them get it?"
There have been challenges to Johnston's path, not least of which is the financial pressure. "I worked part time throughout my training, but I was still forced to take out huge student loans," she admits. "I could pay them off faster if I stopped guiding and worked as a doctor full time, but I love what I do." She keeps costs low by living in a tiny house on wheels, which she parks on a quirky little piece of land she bought in Leavenworth, WA.
Her lifestyle has required other sacrifices, too. "I would have been a good mom, but guiding and medical school and residency just aren't conducive to finding a long-term partner. Nowadays, I am a good mom to lots of people — they just aren't my biological children." She smiles. "Maybe I'll get a dog."
Today Emily works at Madigan Army Medical Center in Fort Lewis, which is located inside the Joint Base Lewis-McChord just outside of Tacoma, Washington. At age 51, she is the oldest woman working on Mount Rainier, where she guides and serves as medical director for International Mountain Guides. She teaches courses on international mountain medicine and advanced wilderness life support, and she consults with the Mount Rainier National Park to streamline their rescue protocol. Within the community, she is affectionately known as the "dirtbag doctor."
So, was it worth it? She nods without a second's hesitation. "I relinquished my forties to my training, but I have no regrets. I love what I do and where I am. The hardest part now is that I'm used to looking forward to the next step. I'm not in the habit of being content where I am. It's time to focus on being a better doctor and a better climber and a better human being. It's time to be here."
In her personal first aid kit: a roll of athletic tape, ibuprofen. If she's guiding, she'll add altitude medications and emergency airways.

Tick list: Visit space. Ski big lines in India.

What she looks for in female friends: practicality. "Some people say they're there to help," Johnston states. "Other friends show up with a shovel, a rope, a pistol, a bottle of whiskey, and a plan. And those are the women who I like — the ones who get shit done."
Emily's story was originally published in Women's Adventure magazine's Winter 2014-15 issue.
More on Dr. Emily Johnston in The Wenatchee World »
April 2015 — Leavenworth mountaineer-physician in Nepal disaster zone: story of IMG guide and medical doctor Emily Johnston who was guiding on Everest when the earthquake struck.