June 9, 2009
Below is a recap of the trip:

The group arrived at Camp 1 on schedule and spent a good night there on June 3.
On June 4 the guides scouted the route up to Camp 2 at 14,000 feet while the team took a well deserved rest day.
On June 5 the team moved up to 14,000 feet in deteriorating weather but established a very secure camp with an exposed serac wall (a vertical chunk of ice) providing good wind protection.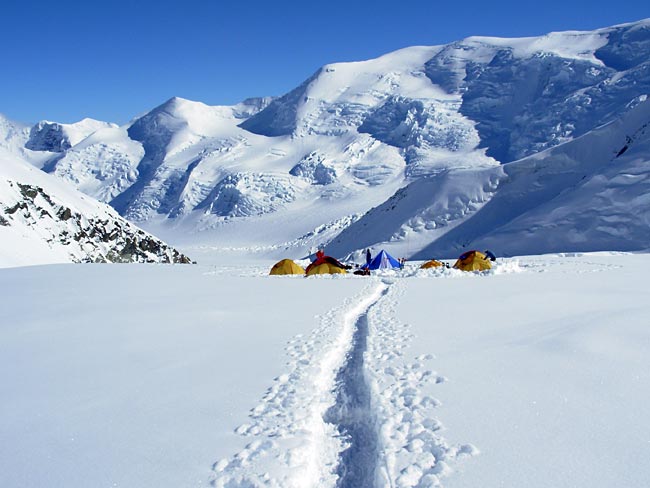 The weather turned out to be good on June 6 so four of the team members elected to go for the summit with the two guides Mark Allen and Eric Stevenson. The four team members and two guides made the summit, 16,400 feet, and returned to high camp tired but happy.
On June 7 guide Mark Allen summited for a second time with the two remaining team members. They made it back down to high camp safely.
The rest of the team had considered climbing nearby Mt. Churchill on June 7 since they had the extra day, but after the Bona climb they decided that one summit was good enough and instead took the day off.
Mark Allen called in this morning at 8:30 a.m. today, June 8, and says the entire team will descend this morning all the way back to the landing site. They will be down at Base Camp by 4:00 pm and hopeful of a pickup by the bush pilot at his earliest convenience. Optimal would be June 9 in the morning, but it will be conditions and weather dependent.
JUNE 9 UPDATE: I received a call from the team at Mt. Bona Base Camp at 6:30 a.m. Alaska time. The winds are calm with unlimited visibility. The group all arrived safely last night.
I contacted the bush pilot and he is in the air.
This was a remarkable ascent of Mt. Bona, I have rarely seen a smoother climb!
That's all for now, my congratulations to the team!
George Dunn