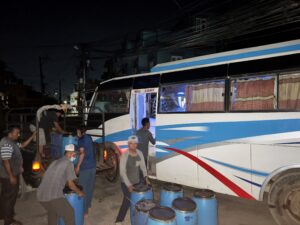 Loading the bus to Besishahar (Ang Jangbu)
Ang Jangbu and Phunuru report from Kathmandu that the IMG Base Camp Staff left Kathmandu today, with a load of food and gear on the first leg of the 2022 Manaslu Expedition.
"We loaded a bus at 2 AM and they left the office 3AM exact. They will reach Besishahar around noon and then switch to small 4-wheel trucks (jeeps) for Dharapani today. Mules are arranged to meet them there this evening, and the goal is to reach Samagaon on 27th."
We'll fly our cook and fresh food in next week. The guides and climbers arrive Kathmandu August 30, and will be flying by helicopter up to Samagaon a few days later.  The 2022 Manaslu Expedition is on the way!
Eric Simonson