June 30, 2010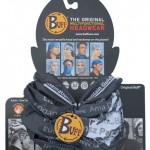 You asked for it… so here it is!
The Buff is one of the most functional pieces of clothing on any gear list. If you're facing some windy conditions on "The Top of the Cleaver", some harsh sun at the South Col or some dusty conditions on Aconcagua the Buff sure comes in handy.
Not required in the mountains, but darn close!