April 9, 2010
Reports from Nepal and Tibet.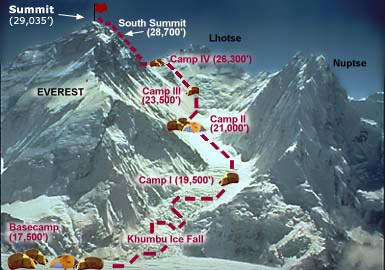 Everest –  Icefall route now open, Camp 1 and 2 sites claimed.
Ang Jangbu reports from Everest Base Camp that the Icefall Doctors set the last five ladder sections today and that the route is now open. When that happens, it is like dropping the green flag at a Nascar race, with everyone putting peddle to the metal to get good camp sites!  Jangbu had Mingma Tenzing and Karma Rita, two of our fastest Sherpas, lined up to lead the charge for our team up to C1 and C2, and they have now claimed our sites at those camps. The plan now is…(Read the full dispatch on the Everest Update Page).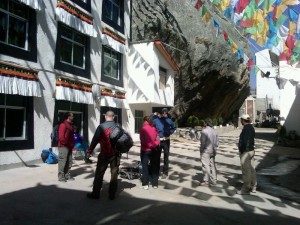 Cho Oyu – Team Reaches Nylam
IMG leader Eric Remza reports that the team has now reached Nylam, and are doing well.  After coming up the famous Bhote Kosi valley road from Zhangmu (with its thousand foot drops down to the river), Nylam makes the very beginning of Tibetan villages and farming.  At over 12,000 feet,  Nylam is a perfect elevation for a couple acclimatization days, with some nice hiking in the area to stretch the legs…  (Read the full dispatch on the Cho Oyu Update Page).
Eric Simonson