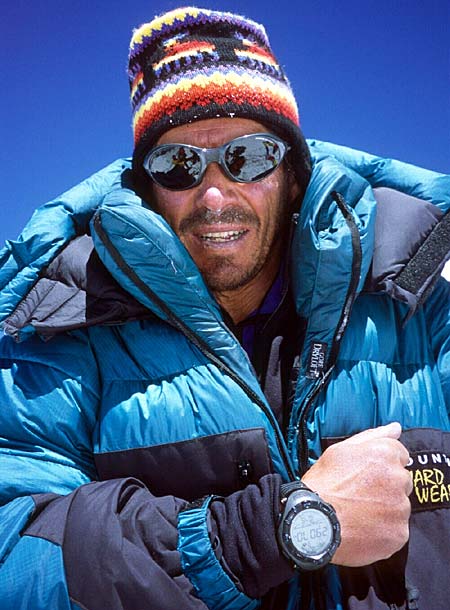 A: Mild altitude illness, also known as Acute Mountain Sickness (AMS), is not uncommon among people climbing Mt. Rainier. Typical symptoms tend to include headache, loss of appetite, nausea, shortness of breath, fatigue, restless sleep, and an increased heart rate and increased respiratory rate.
There are many things you can do to help prevent altitude illness. Hydrating during the climb is the most important and effective, but other effective techniques also include "pressure breathing," using medications such as Diamox, and taking acclimatization hikes prior to your climb. Ibuprofen or aspirin can help with the headache and other symptoms of altitude illness.
Proper hydration while on an alpine climb can help you avoid cold injuries as well as prevent altitude illness. The more hydrated you are, the better you will feel at altitude and the faster you will acclimatize (adapt to higher altitude), because you will be able to assimilate more oxygen into your blood stream and deliver it throughout the body more efficiently. It is important to keep track of your fluid intake to make sure that you're getting enough. We generally recommend that a person drink between 4 and 6 liters per day while climbing or training on Mt. Rainier. The general rule of thumb is that if your urine is clear and copious, then you are drinking enough. Electrolyte drink mixes will help replenish electrolytes lost from sweating and exertion. It is important, however, to remember to eat as well as drink during the day, both to maintain your energy levels and prevent hyponatremia. Drinking too much water without replacing electrolytes can make you hyponatremic (the flushing away of important electrolytes in the bloodstream due to excess water), which can be a life-threatening illness.
In addition to staying well hydrated, consider avoiding substances that act as diuretics or depressants. Refrain from alcohol, caffeine, nicotine, antihistamines, sleeping pills and other depressant drugs for a few days prior to and during your climb.
Another means of preventing altitude illness is pressure breathing, or purposeful hyperventilation. The more you force yourself to breath deeply and force out the old stale air in your lungs, the more you will rid your body of carbon dioxide and allow your body to take on more oxygen. This, combined with proper hydration will allow your body to transport more oxygen molecules around the body. This breathing technique is very effective and is employed by most successful high altitude mountaineers. IMG guides will teach you about pressure breathing during your climb.
Generally, just being fit will help you feel better at altitude. Being fit will also help you manage any symptoms of altitude illness without simultaneously struggling with the journey up the mountain. When possible, go for acclimatization hikes prior to the climb. Hike a local peak with some altitude (8,000 feet or higher) or consider coming out to Ashford a day or two before your climb with IMG and do a day hike up to Camp Muir (10,000ft) to log some time at altitude and start your body on the process of acclimatization.
Some medications have been shown to help prevent altitude illness. IMG does not recommend any specific medications. People tend to do fine with the moderate altitude of Mt. Rainier without any medications, especially if they are on one of our longer (3, 4, 5, and 6 day) programs. If considering medications for altitude illness, you should consult with your physician. Diamox (acetazolamide) can help prevent altitude illness and many climbers use it on high altitude expeditions around the world. It is usually not necessary on Mt. Rainier and is reserved for more extreme altitudes such as those found in the Himalayas and in South America. You need a prescription from a doctor to obtain Diamox so a consultation with an MD is necessary, and that is a good time to ask questions regarding its benefits and drawbacks, as there are several side effects that can affect one's climb. If you do decide to take Diamox, we suggest starting with a small dose (125mg morning and evening) to minimize unpleasant symptoms (tingling, itching, excessive urination).
In the end, simply maintaining good hydration is the single most important thing you can do for yourself to avoid altitude illness.
For more information about AMS and altitude illnesses, please visit: www.princeton.edu/~oa/safety/altitude.html