On most of our climbs we take care of your breakfast and dinners so all you're in charge of is providing your lunch snacks throughout the day. Keep in mind that there is typically no actual sit-down lunch hour, unless you're on one of our treks where lunch is incorporated into the daily schedule.
On our climbs we're typically eating throughout the day… We always say that lunch takes place when breakfast ends and ends when dinner is served. With this in mind you should bring foods that are easy to snack on and don't require a lot of assembly.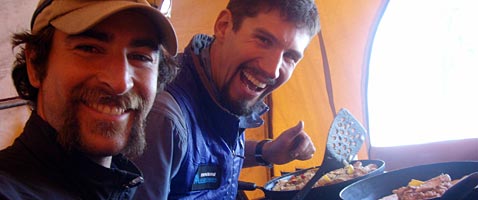 Ok so here's the deal – don't spend a ton of time counting the calories but +/- 1500 calories of personal food per day is about average for snack intake. Bringing foods that you are familiar with and enjoy is where your focus should be. Remember just because you're in the mountains doesn't mean you have to eat pounds of trail mix and bag after bag of almonds. Mix it up and bring foods you know you'll eat, even if the altitude has temporarily stolen your appetite. Oh yeah – spoil yourself – adults like candy too! Keep "summit day" in mind… you'll need some food that is easy to access and doesn't freeze to the point that it's not edible.

Check out what some of our guides like to eat when climbing.
Pictured above: IMG guides Aaron Mainer (left) and Eben Reckord (right) cooking dinner in the Weatherport at Camp Muir on Mt. Rainier.
Tye Chapman
Operations Manager