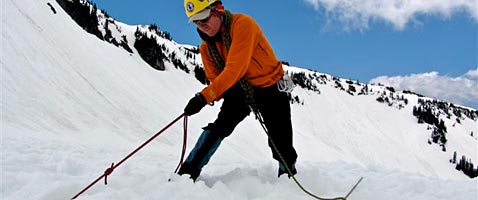 Rainier 2-Day Crevasse Rescue School Gear List

Download the Crevasse Rescue School Gear List PDF »
The list below is designed to help you identify everything you will need on your trip. Each piece of gear is accompanied by a description to help you understand its use and a recommended example. All items on this list are there for a reason and are, unless specified, they are required.
International Mountain Guides will supply the necessary group climbing equipment including ropes and anchors for the school. You will need to supply your own personal climbing equipment such as clothing, boots, ice axe, crampons, food and drink. This Personal Equipment List is for your guidance. Please consider each item carefully and be sure you understand its function; consult with us before you make any substitutions. Several of the more specialized items (i.e. plastic double-boots, crampons, ice axe) can be rented from us at the IMG base in Ashford. Please consult our Rental Information.
[ ]
*Internal frame pack large enough to carry all required items for a day in the mountains
[ ]
*Ice axe
[ ]
*Harness
[ ]
2 pear shaped locking carabiners
[ ]
2-4 regular carabiners
[ ]
1 belay device (like the Black Diamond ATC)
[ ]
*Climbing Helmet
[ ]
*10 or 12-point crampons, ADJUSTED TO YOUR BOOTS
[ ]
24 feet of 6mm Perlon accessory cord OR pre-constructed prussik slings; optional - bring one or two mechanical ascenders if you own them
[ ]
1 wool or pile hat and 1 neck gaiter; or 1 thick balaclava
[ ]
1 sun hat (ball cap and/or bandanna)
[ ]
1 pr. light gloves (not fingerless) and 1 pr. thick insulated gloves (like ski gloves)
[ ]
1 light or mid-weight synthetic underwear top and bottoms
[ ]
1 synthetic t-shirt (preferably white - for sunny days)
[ ]
1 expedition-weight or light fleece top
[ ]
*1 soft shell jacket
[ ]
*Gore-Tex (or equivalent) shell jacket with hood
[ ]
1 pr. Soft-shell climbing pants (Outdoor Research Exos Pants)
[ ]
*Gore-Tex (or equivalent) shell pants, preferably with side zips
[ ]
*Plastic double-boots; or insulated leather or synthetic single boots
[ ]
Gaiters (make sure they are large enough to cover the plastic double-boots)
[ ]
1 set of wool or synthetic socks
[ ]
Personal medical kit: keep it light but include at least: Band-Aids, moleskin, aspirin/ibuprofen, small roll of adhesive tape and any necessary personal medications.
[ ]
*1 pr. glacier glasses with side shields
[ ]
Sunscreen and lip screen, high spf rated
[ ]
2 one liter size water bottles
[ ]
1 pocket knife, 1 disposable lighter
[ ]
1 large garbage bag to protect gear from rain
[ ]
Trail lunch and personal snacks for the day, drink mix (if desired).
[ ]
Note pad and pen for note taking
[ ]
Small digital camera for documenting rescue systems

Optional Items: Bring additional rescue gear with you if you have it including mechanical ascenders, mini ascending devices (Tiblok or Ropeman), rescue pulleys, extra carabiners, sewn webbing runners (single length and double length) and a cordelette (18 feet of 6 mm Perlon cord for linking anchors).
IMPORTANT EQUIPMENT NOTES:
* indicates this item is for rent at IMG HQ.
You must have proper equipment and sufficient warm clothes for the program.
Please do not hesitate to contact us if you require assistance with your gear selection.
If you are planning for a climb of your own on Mt. Rainier or other glaciated peaks, you will want to bring the following minimum equipment (per person) with you on the program to practice its use:

24 feet of 6mm Perlon accessory cord to construct prussik loops
5 feet of 5 mm Perlon cord for a rappel backup prussik
2 short pickets (2 foot, I-beam shape)
1 or 2 ice screws
4 locking carabiners
4 non-locking carabiners
1 belay device
2 cordelettes (18 feet of 6 mm Perlon cord each)
Several single length and/or double length sewn webbing runners
Optional: mechanical ascenders, mini ascenders (Tiblok or Ropeman), self tending belay device like BD ATC Guide, or Petzl Reverso 3, lightweight rescue pulleys
Please do not hesitate to contact us if you require assistance with your gear selection.