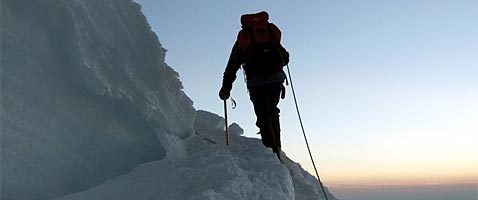 Memories are Everything:
The 7 Summits for Alzheimer's
We've known Alan Arnette since he climbed Cho Oyu with IMG back in 1998. Since then he has built his website into a leading climbing news source. After his mother was diagnosed with Alzheimer's Disease in 2003 Alan dedicated his life to raising money to help researchers find a cure. We're proud to be working with Alan on the climbing project "Memories Are Everything: The Seven Summits For Alzheimer's". We hope to help Alan hit his goal of raising $1M by raising awareness for this important cause. Any and all support is appreciated — if you can join us on a climb that's great, but if you can't join us please consider donating. We appreciate your support!
—Phil, Geo, Eric, Paul
From Alan Arnette
Today over 5.3 Americans and millions more worldwide, are living with Alzheimer's disease. Alzheimer's destroys brain cells, causing problems with memory, thinking and behavior severe enough to affect work, lifelong hobbies or social life. Alzheimer's gets worse over time, and it is fatal. Today it is the seventh-leading cause of death in the United States.
I know this personally because my mother, Ida, was recently taken by the disease, and I have already lost two aunts to Alzheimer's. But there is hope to find a cure through research and an opportunity help those who have it today and their families. That is why, with your help, we are raising $1M to advance Alzheimer's care, support, research and awareness.
We will climb the 7 Summits in 2010 and 2011 and conduct fund raising events before, during and after each expedition. Our partners are the Cure Alzheimer's FundTM and International Mountain Guides plus Outside Online who will be following the journey with updates sent directly from the climbs.
You are invited to join on a climb or a trek, help with a fund raising event or make a donation today. Together we can make a world without Alzheimer's.
—Alan Arnette
The Cure Alzheimer's Fund

TM
The Cure Alzheimer's FundTM is a non-profit public charity established to provide funding for targeted research into the causes of Alzheimer's disease. The Cure Alzheimer's FundTM exists exclusively to fund targeted research to hasten the slowing, stopping or reversing of Alzheimer's disease. The Fund is supported by grants from three families and covers all of their overhead. This means 100% of your donations go directly to Alzheimer's research. I encourage you to read more about the Cure Alzheimer's FundTM at their website and to give generously today. All your donations are U.S. tax deductible.
Alzheimer's Research
The spending on Alzheimer's research pales in comparison to that spent on cancer, heart disease and many other crippling diseases. Funding through the National Institutes of Health puts Alzheimer's far behind at only $644 million in 2009 as compared to $5,654m for cancer and $1,033m for diabetes. Government spending on research is less then one penny for every dollar spent on care.
We must do more and do it now. Every 70 seconds another case of Alzheimer's is diagnosed. It is estimated to cost more than $5,000 a month to care for an Alzheimer's patient. With the baby boomer generation aging, the numbers will grow dramatically affecting 10 million during their lifetime. And Alzheimer's knows no country boundaries.
Fundraising and How You Can Help
Alan's goal is to raise $1 million dollars.
When you join an expedition you will be invited to be part of an unprecedented effort to raise the $1M though efforts with local fundraising events before and after each climb in conjunction with your local Cure Alzheimer's FundTM chapter. Even if you're not climbing you can help out by donating to the cause through links on this page.
The Climbs
The current schedule and estimated prices for the 7 Summits:
Vinson, Antarctica (16,067' • 4897m)
Aconcagua, Argentina (22,840' • 6962m)
Elbrus, Russia (18,481' • 5633m)
Kilimanjaro, Africa (19,340' • 5896m)
Everest, Nepal (29,035' • 8850m)
(and Trek to Everest base camp)
Denali, Alaska (20,310' • 6190m)
Carstensz Pyramid, New Guinea (16,023' • 4884m)
Mt. Kosciuszko, Australia (7,310' • 2228m)
Who is Alan Arnette
Alan was born in Memphis, TN and now lives with his wife in Colorado. He took early retirement in 2007 after a 30 year career with Hewlett-Packard. There he served in various roles but mostly in General Management positions including a 5 year assignment in Europe.
He started climbing late in life at age 38 with Mont Blanc as his first big peak but went on to gain skills and experience through climbing on some of the highest mountains in the world including on Everest, Cho Oyu, Broad Peak, Ama Dablam, Aconcagua, Denali and more.
My Story — By Alan Arnette
The Warning Signs
We started noticing my mother's memories had slipped several years ago. During the 2003 Christmas holiday, we went to a hotel for their famous brunch. As usual, we all got up to visit the buffet and indulge until we could no more. I noticed my Mom walking around aimlessly. As I went over to her, she seemed startled at my approach. "What do you want to eat?" I asked her gently. "Oh, you know; the usual," was her noncommittal answer.
In spite of this warning sign, she and my dad continued their independent life for several more years, refusing to give up their independence in spite of our begging. As her memory grew worse, she mastered the technique of the elusive "throw-away" answer. My dad supported her deception either by design or by necessity.
Sitting across the table from her during breakfast, we chatted intently about Dad being in the hospital. I had to keep reminding her that he was not well and it was serious. In the midst of this serious talk, she looked at me with clarity in her eyes and simply asked, "Now, who are you again?"
In 2009 my mom continued to decline. She had trouble feeding herself and doing other daily activities. She no longer recognized or remembered anyone, and she had significant trouble forming words or creating sentences. Her mind continued to be devastated by this disease. Not only was her memory gone but almost all of her identity.
That said, I could still get her to laugh a little with a small joke and even over the phone, I could feel her smile. So she was always in there somewhere. On August 16, 2009, she passed away.
What Could I Do?
As a result seeing the impact of Alzheimer's on my mother, it became clear that I had to do something. So after taking early retirement, I have dedicated my life to raising money for Alzheimer's disease through my climbing.
My dream is that researchers can find a way to stop or a cure for this killer of lives and robber of precious lifetime memories.
Please Make a Donation Today
You do not have to wait for my climb to make a donation. 100% of the donations go to the Cure Alzheimer's FundTM. Make a donation today »
Join A Climb!
This is going to happen, and you can be a part of it! Contact us here at IMG immediately to get a spot on these expeditions. Space is always limited so please do not delay.
While climbing is the activity, fundraising is the goal. This is about the cause and not about the climb; however, the climb will help the cause and be a great adventure that we would love to share with you.