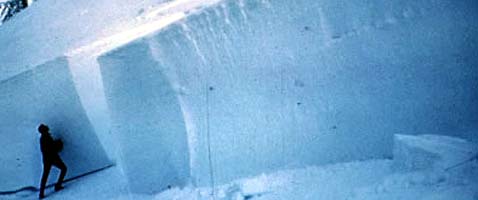 Avalanche Training Frequently Asked Questions
This information should answer many of your initial questions and also guide you through the next stages of preparing for the seminar. If you have any questions, please feel free to contact us: office@mountainguides.com
How do I get there?
For directions to and current conditions at Crystal Mountain check: skicrystal.com
On the first day of your training we meet at the Crystal Mountain Fire Hall (PCFD #25) at Crystal Mountain at 8:00 am. Turn left just before parking lot B and left again. You should see fire trucks outside.
If you are coming from out of the area, International Mountain Guides has worked for many years with the staff at CTT Destinations to provide professional travel service for participants in our programs. For help with your plans, we urge you to contact Pirjo at CTT Destinations: 800-909-6647 or img@cttdestinations.com
Will I receive a certificate?
You will receive a certificate if you complete the full level I (3 days) or II (4 days) courses. Guidelines for course length and content have been established by the American Avalanche Association.
If you have taken the whole course (I or II) in the last 3 years you can keep your certificate up to date by attending the first 2 days. This is common for guides and others who need current certificates for their employment.
Many people can only get the weekends off and if you don't care about the certificate you have the option to take only the first 2 days. Unless you are refreshing (3 yrs) you are encouraged to take the complete course.
What about using snowshoes, or if I'm not sure about my skiing ability?
Intermediate or advanced skiing ability on alpine, ski mountaineering, snowboard, or telemark gear is the norm. If you are using snowshoes, or are concerned about your skiing skills, we will have a group that goes into gentler terrain. Our primary access will be by chairlift and short hiking with skis. Please include skins and appropriate equipment for a backcountry tour.
What special equipment do I need?
Check the equipment list »
You will need an avalanche transceiver, probe, and shovel. Bring your own or you may be able to rent one from the local climbing/ski shops. IMG has a few transceivers for rent. If you wish to rent or buy one from us please call us before the class. A field observation book, Lens (10-20x), crystal card, and snow saw are suggested. A warm jacket will help you be prepared to stand in snow pits in bad weather.
Where do people stay?
If you plan on straying at Crystal Mountain (some choose to snowcamp in the field across from parking lot F) please check
www.crystalhotels.com
for more information.
What's included in the trip cost?
Cost Includes:
All instruction and permits
Shared use of snow study equipment
Cost Does Not Include:
Transportation costs
Personal equipment including skis or snowshoes
Avalanche equipment including, beacon, probe, or shovel
Food and lodging