2004 Expedition Dispatches
Dispatches will be added in chronological order below as news comes in from the climbing team in Tibet.

September 30, 2004

FINAL DISPATCH • 23 IMG CHO OYU SUMMITS!

Good news today... Mike and Jangbu and the guided team successfully reached Kathmandu (via the Zhangmu road) this afternoon without incident.

Back on Cho Oyu, I'm happy to report that all climbers are now off the upper mountain, after a final summit bid by Kim Boon and Dorge Lama (both without oxygen) which was successful. This was the second successful climb for both climbers on this expedition. On the descent they were joined at Camp 2 by Mingma Tshering, Karma Rita, and Mingma Tenzing who helped pull all the remaining gear down from C2. Tomorrow the Sherpas will pull the rest of the gear down from Camp 1, and the yaks will arrive the next day to start moving the remaining group down to Base Camp.

This makes a grand total of 23 summits for IMG this season, the most we have ever had on a Cho Oyu trip. The combination of strong climbers and Sherpas, great logistics, and reasonable weather conditions made for a terrific Cho Oyu season for our teams. This brings our IMG total number of Cho Oyu summits since 1995 to 129.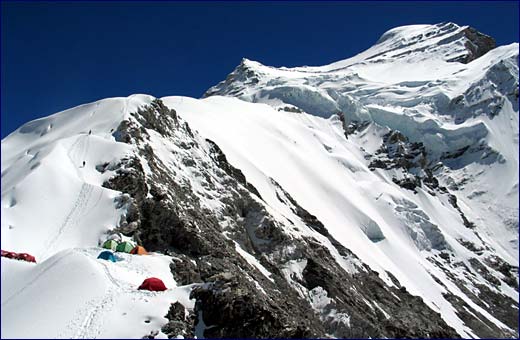 Cho Oyu route above Camp 1 (photo: Ang Jangbu Sherpa)



I'd like to say thanks to everyone who played a role in making our tenth consecutive Cho Oyu season (every year since 1995, with four times in the spring and eight times in the autumn) a success. In particular, IMG Leaders Mike Hamill and Ang Jangbu and Sirdars Kami and Ang Passang, our great cooks led by IMG stalwarts Pemba and Kaji, our custom weather forecaster Michael Fagin ( www.everestweather.com ), the staff at Great Escapes Trekking in Kathmandu, our friends in the China/Tibet Mountaineering Association, and our IMG team at home including Phil, Geo, Erin, and Judy... who helped me keep track of all the loose ends.

Thanks and congrats to everyone!

—Eric Simonson,
International Mountain Guides



September 27, 2004

The National University Singapore climbers scored more summits with an oxygenless ascent today by Robert Goh, Ernest Quah and Kami Sherpa. This was the second ascent of the trip for both Kami and Ernest (who climbed last week with oxygen). Robert has also climbed Everest and Shishapangma. Congrats to the Singapore climbers!

—Eric Simonson,
International Mountain Guides


September 25, 2004

IMG Leader Mike Hamill reports that all of the team members have summitted and Bruce and Dave are safely back at Camp 2 resting with the assistance of Tashi Tshering, Ang Pasang, and Mingma Tensing, and Nick is continuing on to ABC with Da Nuru. The weather was perfect today and the IMG climbers were the first to the top, witnessing a spectacular sunrise over Mt. Everest from the top of Cho Oyu!!!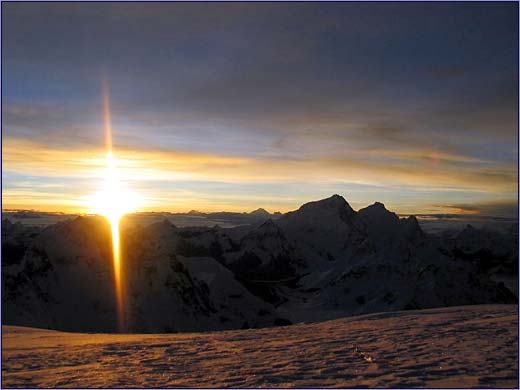 The sun rises over Mt. Everest (on the right with Lhotse and Nuptse) viewed from the summit of Cho Oyu, September 25, 2004 (photo: Da Nuru Sherpa)



The team left Camp 3 at around 1:15am and Nick Rice and Da Nuru were on top by 4:30, setting a blistering pace. Bruce Dailey and Ang Pasang were on top around 5:45, also setting a fast pace, and they were followed at 6:24 by Dave Schlimme, Tashi Tshering and Mingma Tensing (still at a very respectable five hour pace). Ang Pasang, Da Nuru, and Ang Tashi's combined 20 summits of Mt Everest gave the IMG team a great deal of experience to pull from on while on the summit bid. As for the Singaporean contingent, Robert and Ernest are currently at Camp 3 on their Oxygenless attempt at Cho Oyu. The weather looks stable for now so hopefully they will have a successful climb. The rest of the NUS team has been resting at ABC and training for their upcoming Everest attempt by polishing their climbing skills on the high altitude ice walls that flank Cho Oyu. The plan now for the American IMG team is to rest and pack up at ABC before making the yak-assisted trek to Base Camp on the 29th. The team will spend a night in the border town of Zhangmu before completing the drive to Kathmandu on the 30th, if all goes as planned.

—Eric Simonson,
International Mountain Guides



September 22, 2004

Ang Jangbu reports from ABC that Kim Boon and Mingma Tshering summitted yesterday morning (21 Sept) at 10:30 am Nepal time. Kim Boon was able to descend all the way to C1 and Mingma came all the way to ABC. All Singapore members are now at ABC. Mike's team is going to C1 tomorrow as planned and hopefully the weather will hold for them to summit on 26 September. Danuru, Tashi and Mingma Tenzing will be going to the summit with Mike, Bruce, Dave and Nick. Ang Passang and Mingma Tshering will go to C2 on their summit day for support. Robert Goh is going for his second summit attempt one day after Mike's group, joined by Ernest Quah, one of the NUS climbers. They will try and climb without oxygen. Kami and Karma Rita are going back up with them. The rest of the NUS climbers are scheduled to do some practice/training climb on the ice wall with Dorjee Lama and they will go to C1 on 24 September.

—Eric Simonson,
International Mountain Guides


September 18, 2004

Ang Jangbu Sherpa called us via satellite phone to let us know that the National University of Singapore climbers on the IMG permit were the first climbers of the season to successfully reach the summit of Cho Oyu. At 7:12am Lindley Zerbe, Chow E Fung, Ernest Quah, Ang Chhiring (Kami) Sherpa, Mingma Tshering Sherpa and Karma Rita Sherpa arrived at the summit in good weather. Shortly after, their teammate Teo Yen Kai arrived on the summit with Dorjee Lama Sherpa. We extend our congratulations to them! Climbers Robert Goh and Lim Kim Boon from the Singapore Mountaineers are currently mounting their summit bids and slept at Camp 1 tonite, aiming for Camp 2 on the 19th, Camp 3 on the 20th, and a summit bid on the 21st if the weather holds for them.

IMG leader Mike Hamill sent a follow-up email to confirm this news and also give us more information about the rest of the goings on. He and Nick Rice and Bruce Dailey had arrived back at ABC after spending another night at Camp 2. Bruce and Nick did well with the altitude on this last round and are now set for a few days of rest before mounting their summit bids. David Schlimme and Da Nuru and Dorje Lama are at Camp 2 tonite and will return to ABC tomorrow. We'll see how they feel when they get down tomorrow.


IMG Sherpas on the summit of Cho Oyu, September 18, 2004



Larry Boersma has decided to leave the team and go down to thicker air. Mike tells us that Larry has been a great asset to the team and at age 74 he has been an inspiration to everyone on Cho Oyu this year. Larry is headed to Kathmandu tommorrow by jeep and all the arrangments have been made for Larry's transport. Mike sends this comment about the great guys recruited by Ang Jangbu to work with our climbers this year: "The IMG Sherpa team, as always, help to push the route and are considered to be among the strongest on the mountain. This year they fixed the entire route including the ice cliff and the yellow band and broke the trail to the summit. They are being praised by all the teams on the mountain for their hard work and skilled routesetting."

—Eric Simonson,
International Mountain Guides


Mount Everest viewed from the summit of Cho Oyu



September 15, 2004

IMG expedition leader Mike Hamill called in from Cho Oyu Advance Base Camp this morning to let us know they're doing fine and getting ready to move up the mountain again real soon The National University of Singapore climbers will likely sleep at Camp 1 tonite, move to Camp 2 on the 16th, to Camp 3 on the 17th, and then go for the summit on the 18th. This group should include Lindley Zerbe, Chow E Fung, Ernest Quah and Teo Yen Kai. A few days later, the Singapore Mountaineers team of Robert Goh and Lim Kim Boon are planning to go for the top as well. Meanwhile, the IMG guided group, including Mike Hamill and climbers Bruce Dailey, Nicholas Rice, Larry Boersma and David Schlimme are headed to Camp 1 on the 16th, to Camp 2 for an overnight on the 17th, then maybe a day push uphill toward Camp 3 before descending to sleep again at Camp 1 on the 18th, then back down to ABC for several days of rest before mounting their own summit bids later this month. Everyone is doing great and we're pleased with their progress so far!

—Eric Simonson,
International Mountain Guides


Mike Hamill shot us an email to update you on the team's progress. Two of the Singapore team members left Base Camp yesterday and safely arrived in Kathmandu today. Of their remaining team, Robert is in Nylam resting and breathing thick air before returning for his (and Kim Boon's) oxygenless ascent in about a week's time. The rest of their team (four members) are planning on another three rest days before departing on the 15th for their summitt attempt. This schedule would put them on the summitt on the 18th. Their team menbers seem fit and upbeat.

As for the IMG team, they just arrived back at ABC after a two day foray to Camp 1 to sleep. The team was brutalized during the hike and throughout the night by gusting winds and 6 inches of snow. They now have a few rest days ahead of them before returning to Camp 1 for the night and then making their way to Camp 2. They'll spend one night at Camp 2 before puching up towards Camp 3 and descending for another night's sleep at Camp 1. They all had the obligatory tough first night at Camp 1 this time but everyone is acclimatizing well and excited about getting back up there to push higher.

More teams keep rolling in and ABC and Camp 1 are becoming more crowded social arenas. Since it is the 50th anniversary of the first ascent of Cho Oyu, there will likely be more climbers than usual on the mountain this year. The route looks in good shape and our sherpas will finish stocking Camp 3 in the next few days. All's well!

—Eric Simonson,
International Mountain Guides


September 10, 2004

Ang Jangbu reported in from Cho Oyu Advance Base Camp this morning. Mike and his team are doing well and they are going to Camp 1 tomorrow to sleep. Mike is sending Ang Passang and Karma Rita to help them wiht cooking and melting water at Camp 1. Mingma Tenzing is carrying to Camp 2 and other sherpas are resting at ABC tomorrow. If all goes well and weather permitting, six sherpas will carry all the way from ABC to Camp 3 on September 12th and will return to Camp 1 to sleep. On the 13th they will carry from 1 to 3 and return to ABC. We will then be in position for the first summit bit for the Singapore climbers possibly on the 18th and on the 26th for the IMG climbing team.

The IMG climbers are all doing great, many more teams are arriving at ABC and things are starting to get a little more crowded, so the Cho Oyu climbing season is now in full swing!

—Eric Simonson,
International Mountain Guides


September 9, 2004

Mike Hamill reports from ABC (Advanced Base Camp) that the IMG team made an acclimatization hike up towards lake Camp in clear weather yesterday. All four members are quite fit and dealing well with the altitude. They have a few rest/acclimatization days ahead before sleeping at C1.

The Singaporean team are doing well and slept at C2 last night... they are well ahead of all other groups currently on the mountain. The Sherpas have been busy stocking the camps and fixing lines. There are now nine teams in ABC with more on their way. All team members are very pleased with the very nice ABC that the Sherpa team has established.

—Eric Simonson,
International Mountain Guides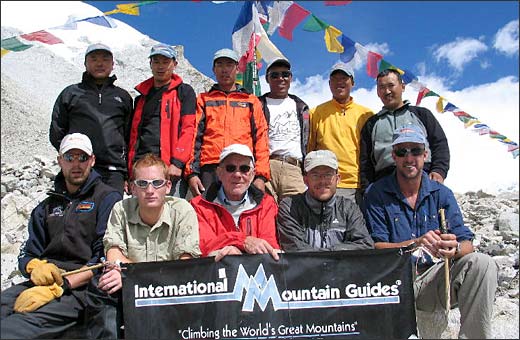 Mike Hamill's IMG Team and Sherpas in base camp. Back row: Ang Jangbu, Pemba, Ang Passang, Tashi, Danuru, Kaji; front row: Mike, Nick, Larry, Bruce, David.

(Between Ang Jangbu, Tashi, Ang Passang, and Danuru, they have 19 Everest summits!)



September 6, 2004

The IMG Cho Oyu teams have now successfully reached the mountain and all is going well. They report that so far the weather has been reasonably good, with snow in the afternoon.

The group traveled to Tibet in two groups. The first group of climbers, predominantly from Singapore, left Kathmandu on August 19 with the Sherpa team. They traveled overland with most of the group equipment, and they have now established BC, ABC and Camp 1. Now they are getting ready for their first rotation to Camp 2.

The second team, led by Mike Hamill and Ang Jangbu, left Kathmandu on August 28 on a flight to Lhasa, and traveled across Tibet via Xegatse and Tingri. They too, have now reached ABC (18,500 feet). Yesterday the members and Sherpas joined together for the Puja ceremoney, marking the beginning of climbing high on the mountain.

The plan is to continue with the acclimatization, with time spent at Camp 1 and Camp 2, before getting ready for the final summit bids towards the end of September.

We'll keep you posted as we get updates on the team's progress.

—Eric Simonson,
International Mountain Guides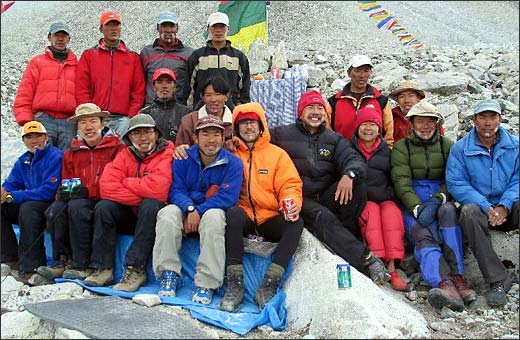 IMG Singapore Team and Sherpas at their Puja in base camp
2004 IMG Cho Oyu Teams
IMG GUIDES
• MIKE HAMILL, Co-lead
• ANG JANGBU SHERPA, Co-lead, Sirdar

SHERPA TEAM
• ANG CHHIRING (KAMI) SHERPA
• MINGMA CHHIRING SHERPA
• DORJEE LAMA
• KARMA RITA SHERPA
• DA NURU SHERPA
• TASHI TSERI SHERPA
• ANG PASANG SHERPA
• KAJI SHERPA
• MINGMA TENJING SHERPA
• PEMBA TSHIRI SHERPA

LHASA TEAM
• ANG JANGBU SHERPA
• MICHAEL AARON HAMILL
• DAVID E. SCHLIMME
• NICHOLAS ALEXANDER RICE
• SHANNON BRUCE DAILEY
• LARRY LYCKLE BOERSMA



SINGAPORE TEAM
• Robert Goh
(Singapore Mountaineers leader)
• Lim Kim Boon
(Singapore Mountaineers climber)
• Lulin Reutens
(Base Camp Manager)
• Shaffique Aljoofri
(NUS Cho Oyu team leader)
• Lindley Zerbe
(NUS Cho Oyu team co-leader)
• Chow E Fung
(NUS team member)
• Ee Khong Lean
(NUS team member)
• Ernest Quah
(NUS team member)
• Teo Yen Kai
(NUS team member)


© 2004 International Mountain Guides; All Rights Reserved.
Website:
Anya Zolotusky