July 26, 2012
We're excited to report that our partners at Outdoor Research have been named the 2012 recipient of the American Mountain Guides Association (AMGA) Industry Award. We've been working with OR for 6 years now and we couldn't be happier – these guys do it right. From head to toe our guides are proud be outfitted by Outdoor Research.
In March, just before our Everest season kicks off, the annual shipment of 'guide gear' arrives from Outdoor Research.  Year after year the guides take that gear over to Nepal and put it to the ultimate test. Every year it stands up to the test…and then some. Even locally here, in our collective backyard on Mt. Rainier, our guides continually push Outdoor Research gear to the limit, and it never disappoints.
What Dan, Alex, Christian and the rest of the OR team are doing is special, and we're happy to support them.
Tye Chapman
Full AMGA Press Release below:

Salt Lake City, Utah – Outdoor Research (OR),  a leading, independent manufacturer of outdoor apparel and accessories, is the 2012 recipient of the American Mountain Guides Association (AMGA) Industry Award. AMGA Executive Director, Betsy Winter, will present the award to Dan Nordstrom, President; Alex Kutches, President; and Christian Folk, Grassroots Marketing Manager, at this year's Outdoor Retailer Summer Market.
The AMGA Industry Award was created to recognize and honor those companies who have helped further the mission of the AMGA and grow the mountain guiding and climbing instructors professions by providing outstanding support, through scholarships, sponsorship, product and donations. As an AMGA Partner for the past 19 years, Outdoor Research is one of the longest-continuing supporters of the AMGA.  Additionally, OR has outfitted an untold number of guides and outdoor enthusiasts with reliable gear from head to foot, ensuring a quality experience in the mountains throughout the world.  The company works closely with the "IFMGA Test Team", comprised primarily of AMGA team members.  These internationally certified guides utilize their expertise and knowledge to help Outdoor Research with product development by providing insight and feedback into the gear OR designs.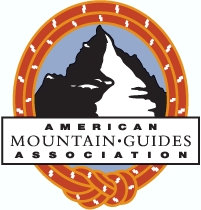 "I'm excited to present Outdoor Research this award," says AMGA Executive Director, Betsy Winter. "Their significant and continued support of the AMGA highlights their commitment to professional mountain guides and climbing instructors in the United States.  We would not be the organization we are today without support from companies such as Outdoor Research."
The award presentation will take place Friday, August 3 at 9:30 am at the Outdoor Research booth.
About the American Mountain Guides Association
For over 30 years, the American Mountain Guides Association (AMGA) has inspired an exceptional client experience as the premier source for training, credentials, resource stewardship and services for professional mountain guides and climbing instructors in the United States. A national non-profit, the AMGA is committed to enhancing the quality of outdoor services provided to the public, while serving as a resource for accessing and protecting the natural environment. The AMGA is our nation's exclusive representative to the International Federation of Mountain Guides Association (IFMGA), the international governing body responsible for guiding standards and education around the world. For more information please visit www.amga.com .
About Outdoor Research
Outdoor Research® is Designed by Adventure®. We provide Innovation and Inspiration for the Relentless Adventurer. We develop innovative, functional, bomb-proof products that are beautiful in their simplicity. We are inclusive, inviting anyone who shares our passion to join our community. We're independent, letting us strive to provide the best value to our customers, not shareholders. We are committed to our core sports: Alpinism, Ice Climbing, Hiking, Paddling, Trail Running, and Backcountry and Sidecountry skiing. We're a member of the outdoor community, and we listen to, value and empower each other and our fellow adventurers. We're growing, both as a company and as individuals. And we're having fun along the way.
For more information about Outdoor Research, go to www.outdoorresearch.com, or contact Dave Simpson via e-mail or phone: 307.734.0505.
—