June 8, 2010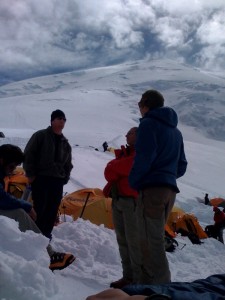 IMG Guide Greg Vernovage called in from Camp Schurman on Mt. Rainier this afternoon to let us know they're enjoying some good weather, albeit a touch windy.
After a nice approach hike yesterday to their first camp they woke up nice and early this morning to get a good start on the Inter Glacier while it was cold, arriving at Camp Schurman late this morning. They're heading to bed for the night now (4:30pm)  anticipating a 10:00pm wake-up call.  At 10:00 they'll assess the condition and evaluate the terrain and make a decision on if they'll climb or not.
We'll update the team's progress tomorrow.
Tye Chapman