December 23, 2009 – 8:40am (PST)
IMG Guide Mike Hamill reports that everybody on our Christmas Kili team arrived on time and with all of their gear. They spent yesterday enjoying the town of Moshi and re-packing their gear for the climb.
Day one of the climb was a nice hike from the Machame Gate through the Rain Forest to the Machame Hut at about 10,000ft.  It's evening in Africa right now as Kili is 11 hours ahead of us here in Ashford (PST) so by now they've enjoyed a nice meal and are winding down and getting ready for a well deserved night's sleep.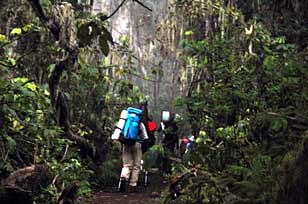 Tye Chapman
Operations Manager