September 18, 2009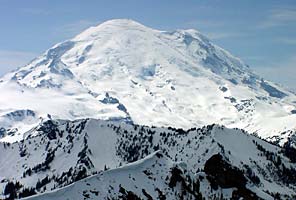 Earlier this week we released our 2010 Rainier climbing dates… We've had lots of calls already and look forward to many more!
Mt. Rainier is a very popular climb and our summer tends to fill up quickly… If you're thinking about climbing in 2010 it's best to plan ahead and get your name(s) on the roster sooner vs. later. Plus giving us some money should motivate you to start training!
All of our Rainier climbs are different but here's a little about our our approach to Mt. Rainier:
Client to Guide Ratio: 2:1
Group size: 12 (8 clients and 4 guides)
Food: Breakfast and dinner provided! And we don't mess around either – good food equals happy and energized climbers!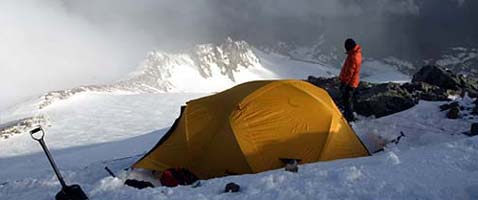 And for those of you looking towards climbs like Denali, Aconcagua, or Cho Oyu check out or Winter climbs on Rainier. These programs will focus on training and skill development for the serious climbers who are looking to tackle the big mountains! Winter summits are tough to come by but it the weather and snow conditions allow it we'll take a shot at the top!
—–
Some info from an earlier blog post:
When is the best time to climb Mt. Rainier?
This is good and very popular question!
We start guiding the "summer season" in late May and guide Rainier through the end of September. That said, the conditions on the mountain change throughout the season. Below is a quick look at how it shakes out… Remember there are pros and cons to climbing at any time of the year!
May/June
This is still early in the season.  When the weather's good, these are incredible months to climb Rainier.  The mountain is typically at its pristine best, snow covered and beautiful.  The route tends to be more direct and number of other climbers is lower than the peak months of July and August.
July/August
This is the peak Rainier climbing season.  Though weather can prevent an ascent at any time of year, the odds of good weather are certainly the best during these months.  Number of other climbers is at its peak.  As the season progresses, the route tends to get a bit more circuitous.
September
After Labor Day, number of climbs on Rainier diminishes.  That's a big selling point for September climbs.  Plus, potential climbers have had the summer season to get in the best shape of their lives.  We often get periods of very nice weather in September.  And, we normally don't encounter any snow prior to Pebble Creek, at 7,200 ft., on the Muir approach.  The snow is typically firmer on the upper mountain.
—
Tye Chapman
Operations Manager