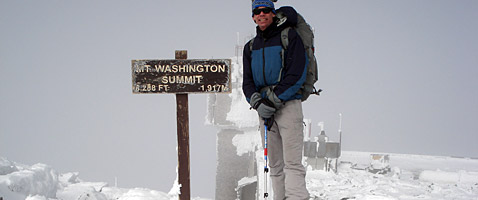 New England Winter Climbing Frequently Asked Questions
This information should answer many of your initial questions and also guide you through the next stages of preparing for the expedition. If you have any questions, please feel free to contact us: This e-mail address is being protected from spam bots, you need javascript enabled to view it
How do I get there?
North Conway is accessible from several airports, the closest being Portland, Maine and Boston, MA. We send out a team roster a couple of weeks in advance and encourage teaming-up to share a rental car or local transportation.
International Mountain Guides has worked for many years with the staff at CTT Destinations to provide professional travel service for participants in our programs. For help with your plans, we urge you to contact Pirjo at CTT Destinations: 800-909-6647 or This e-mail address is being protected from spam bots, you need javascript enabled to view it
Where Do I Stay?
Participants are encouraged to stay at the Nereledge Inn, built in 1787, one of the areas earliest farmhouses. It is now a comfortable B&B, close to town, all amenities and skiing. The team will use the Inn as a meeting/gathering place.
Please note: Lodging IS NOT included in the cost of the program. Team members are encouraged to share rooms.
What kind of insurance do I need?
IMG requires that all* trip participants purchase Travel Insurance that includes coverage for medical evacuation, repatriation and medical expenses for the duration of their IMG program. Trip Cancellation Insurance is strongly recommended. Trekking and mountaineering programs are true "adventure travel."
*The insurance requirement does not apply to IMG customers on programs within the continental USA but is strongly encouraged.
What's the weather doing?