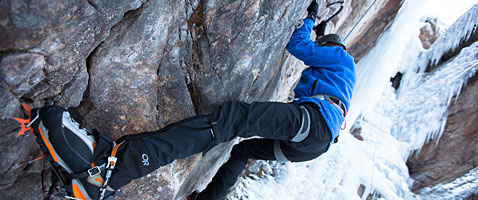 Ouray Veteran's Frequently Asked Questions
This information should answer many of your initial questions and also guide you through the next stages of preparing for the expedition. If you have any questions, please feel free to contact us: This e-mail address is being protected from spam bots, you need javascript enabled to view it
How do I get there?
Ouray can be reached by flying into one of several nearby locations. Montrose is the closest and most logical destination (34 miles, 40 minutes driving), Telluride, (47 miles, 1 hour), Grand Junction (96 miles, 2 hours) and Denver (300 miles, 6-7 hours). There is a shuttle service from Montrose and Telluride (Telluride Express, 1-800-800-6228). The shuttle fee is $25 a person one way, with a minimum of 3 persons. We send out a team roster 30 days in advance and encourage teaming up to share the shuttle or a rental car. We will have a vehicle available in Ouray to shuttle climbers to and from the ice climbing areas.
International Mountain Guides has worked for many years with the staff at CTT Destinations to provide professional travel service for participants in our programs. For help with your plans, we urge you to contact Pirjo at CTT Destinations: 800-909-6647 or This e-mail address is being protected from spam bots, you need javascript enabled to view it
Where do I stay?
Participants are encouraged to stay at the Ouray Victorian Inn in town, right next to the Ice Park. Call early to confirm reservations, ESPECIALLY around the Ice Festival (MLK weekend) 1-800-84-OURAY
Please note: Lodging IS NOT included in the cost of the program. A room-sharing program with team members is available.